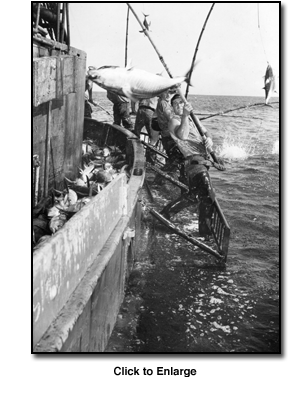 Reviews

Like Pane Amaro (Bitter Bread), Norelli and Kurien's Finding the Mother Lode is a wonderful portrait of the history of Italians in California. Through a keen combination of interviews, visual texts, old footage, photos and paintings, we come away with a thoroughly woven narrative of the Italian experience in the Golden State. Gabaccia, McKibben and Sensi-Isolani further constitute a triad of experts that are second to none in their appearance herein. This is the perfect companion piece to Pane Amaro (Bitter Bread), which together form a one-two punch of the history of Italians on both coasts of the United States.
Anthony Julian Tamburri, Dean
John D. Calandra Italian American Institute
Queens College, CUNY
Too little know even in the West, this story of California's Italians provides a bracing contrast to East Coast stories and opens a new route to understanding the diversity and complexity of ethnic histories in the Golden State.California is a big state, and "Finding the Mother Lode" offers a major historical interpretation of its Italian-origin peoples. Historians have long known that Italian immigrants in California had lives quite unlike those settling on the East Coast of the United States. In this documentary, viewers will learn the enormity of that difference while also seeing how broader patterns of solidarity and conflict and cultural accommodation and change transcended regional difference.

Norelli and Kurien treat with sensitivity complex consequences of Italians becoming early pioneers, or settler colonists of California, even before Mexico lost this territory to the U.S..  Italians' status as Europeans and, in some California locales, as "not-quite whites" emerges in all its complexity as the filmmakers follow individual family stories over time and across the entire state, from Sutter Creek to San Francisco, Stockton, Monterey, San Diego and Los Angeles. The role of Italians in California's wine industry understandably receives extensive treatment.

But this is not a film that focuses exclusively on immigrant successes or achievement of the American dream. Conflicts between natives and immigrants, whites and non-whites, daughters and fathers, anti-clerics and priests, Fascists and anti-fascists, workers and bosses, and speakers of different dialects (most notably Sicilian and Genovese) are all acknowledged as scholars and long-time Californians recall their ancestors' lives as settlers, merchants, farmers, fishermen, construction workers, laborers and artists.  Visually stunning, the film will surely be of interest to anyone with ancestors from Italy. But any viewer—whether or not they have Italian ancestry—can appreciate the concluding statements offered here.  They call attention to the relation of history and identity and to the frequent bursts of creativity that take place in the midst of sorrow, bigotry and ambition. Like all truly local stories, these messages are more universal than particular to California's Italians.
Donna R. Gabaccia, Historian
University of Minnesota
Combining oral history with scholarly analysis this, the first documentary about the history of Italians in California, explores the multiracial nature of California and the Italians' place in that racial landscape. Women's economic contribution to the success of the Italian immigrant experience is well documented as are the changing roles women assumed as California-born daughters of immigrants. Without glossing over the difficulties and sporadic discrimination suffered by Italians, this film amply highlights why Italian immigrant experience in California was in many ways so very unique. The unique and varied Italian immigrant experience in California comes alive from the personal stories narrated by their descendants, historic photographs and on-location footage.
Paola Sensi-Isolani, Anthropologist
St. Mary's College of California
The East Coast and Midwestern urban perspectives traditionally defined the Italian immigration experience for most students of American immigration history. Those perspectives are only part of the story, however. Regional context made for a variety of settlement experiences for Italians. The film, "Finding the Mother Lode" makes a significant contribution to our understanding of the Italian immigration experience in one of the most important Western destinations in the United States --California.

In California, Italian immigrants found opportunities to farm, fish, and become entrepreneurs as opposed to the limited choices in store for them as industrial laborers in the urban East and Midwest and in mining towns throughout the West.  In these other destinations Italians, especially Southern Italians, fought for inclusion in "white" America. By contrast, in California, their status as European-origin whites was assumed. Through a series of interviews with descendants of Italian immigrants in different parts of the state, and also with scholars of Italian immigration in California, these two filmmakers have brilliantly captured both the uniqueness and diversity of the Italian immigration experience in California. This excellent film fills a real gap in our understanding of the complexity of the Italian immigration experience by looking West, and in particular to the varied ways that Italian migrants to California contributed to the social, political, economic and cultural development of the state since the nineteenth century. It's a must see!
Carol Lynn McKibben, Historian
Stanford University
Press Coverage


Q&A with the producers at New York University screening, Dec. 15, 2014




TV Interview with Gianfranco Norelli & Suma Kurien on I-Italy: Everything Italian in America




TV interview with Gianfranco Norelli & Suma Kurien on Italics: Television for the Italian American Experience
Click on the following links to view additional online press:

I-Italy Magazine - Review by George ​De Stefano, Dec. 27, 2014
La Scintilla Italiana - A Documentary on California Italian Immigrants to be Broadcast on PBS
San Francisco, Italy – A Culture Connector – New Tour of Screenings Across California
We the Italians (online magazine) - Finding the Mother Lode: the Italian emigration on the West Coast
San Francisco, Italy - A Culture Connector - Finding the Motherlode Returns to California Riding a Wave of Acclaim
I-Italy Online - Finding the Mother Lode. Documenting Italian Historical Success
San Francisco, Italy - A Culture Connector - Successful Premiere of "The Mother Lode", the Italians' Saga in California
L'Italo Americano - An Interview with Gianfranco Norelli and Suma Kurien Producers of Finding the Mother Lode
La Voce di New York (In Italian) - Gli italiani che trovarono l'oro in California
Press Resources

The theatrical poster and a few archival photos are available here to be downloaded for reviews and promotional purposes.
Italian Tuna Fisherman, San Diego, CA. Circa 1944
Courtesy of Tom Cresci

Download for Web (72dpi)
Download for Print (300dpi)
Italian Family Harvesting Grapes, Sonoma, CA. Circa 1904
Courtesy of the Healdsburg Museum

Download for Web (72dpi)
Download for Print (300dpi)


Family of G.B. Cuneo, Amador County, CA. Circa 1887
Courtesy of Carolyn Fregulia

Download for Web (72dpi)
Download for Print (300dpi)
Cuneo Hardware Store, Sutter Creek, CA. Circa 1901
Courtesy of Azalea Cuneo

Download for Web (72dpi)
Download for Print (300dpi)
Italian Fishermen at Fisherman's Wharf, San Francisco. Circa 1883
Courtesy of Alessandro Baccari

Download for Web (72dpi)
Download for Print (300dpi)
Columbus Day Parade, San Diego, 1915
Courtesy of James Bregante

Download for Web (72dpi)
Download for Print (300dpi)