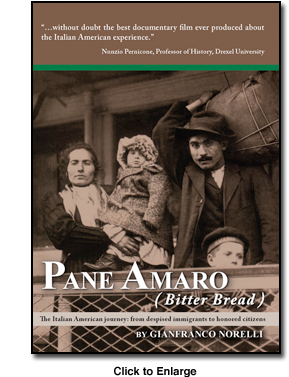 Pane Amaro (Bitter Bread) has been called the first comprehensive depiction of the early Italian immigrant experience on the East Coast of the United States. The result of over four years of research in the United States and in Italy, this feature-length documentary tracks the social, economic, and political transformation of Italians from immigrant victims of violence and prejudice to prominent members of American society.
You can purchase Pane Amaro (Bitter Bread) either as an individual home video DVD or for licensed use in an educational institution. Both are available online from Amazon.
Broadcasts, Festivals and Educational Distribution
Italian Version Premiere: Broadcast by RAI Italian TV, 2007
International Film Festival Libero Bizzarri, S.Benedetto del Tronto, Italy, 2007
Bangalore International Film Festival, Bangalore, India, 2008
New Italian American Cinema Festival, New York City, 2008
International Film Festival,Vasto, Italy, Vasto Prize, 2009
National Italian American Foundation Annual Convention, Washington D.C., 2009
Gasparilla International Film Festival, Tampa, Florida, 2010
Las Positas International Film Festival, Livermore, California, 2010
Salina International Documentary Film Festival, Salina, Italy, 2010
Public screenings in over 50 venues across the United States, Canada, Italy and India including theatres, museums, schools and Italian American cultural organizations.
Over 40 universities in US and Italy have included Pane Amaro in their curricula.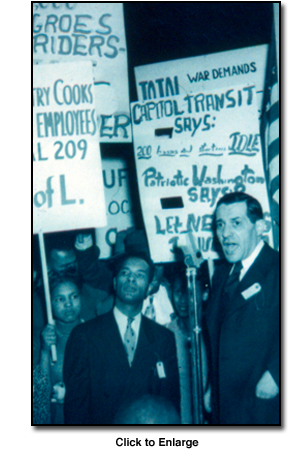 Produced and directed by Gianfranco Norelli – Co-Producer: Suma Kurien
©2009 Eurus Productions, Inc.
Reviews

"Norelli's Pane Amaro (Bitter Bread) is without doubt the best documentary film ever produced about the Italian American experience. Focusing on the social, economic, and political transformation of Italians from immigrants to Italian-American citizens, the film is comprehensive in its chronological scope (1880-1948) and deeply insightful and revealing in its thematic content."
Nunzio Pernicone, Professor of History, Drexel University.
"Pane Amaro (Bitter Bread) is no romantic retelling of the immigrant experience. Using the latest scholarship and a revelatory trove of archival film, Norelli takes a hard look at the social and political upheaval that shaped Italian-Americans' earliest years in the United States. He also reminds us that current debates about terrorism and immigration reform have roots in conflicts all-but-forgotten by today's Americans."
Beverly Gage, Professor of History, Yale University.
"As it is a sober, temperate, and non-indulgent visual history of our heritage, Pane Amaro (Bitter Bread) is also an affective portrait, one that is, at the same time, eloquent, awakening, and emotive, so that the viewer of Norelli's film comes away fulfilled. The introspection and contemplation this film solicits in its viewer has no match in what has thus far been produced with regard to general documentaries on Italian Americans."
Anthony J. Tamburri, Dean, John D. Calandra Italian American Institute, Queens College/City University of New York.
"As a specialist in Italian-American history, I am a very critical viewer of documentary film projects. Yet I actually learned from Pane Amaro (Bitter Bread): in particular, it includes visual evidence I had never seen before. The research is that impressive. And the message is timely: the "nation of immigrants" has not always been a particularly welcoming place to the foreign-born. The story of migration to the U.S. is a very complex one. "Feel good" narratives about immigrants catapulting from rags to riches or moralizing tales of "pulling ourselves up by our own bootstraps" do not begin to capture that complexity. In Pane Amaro (Bitter Bread), viewers learn of events and people known until now mainly to scholars. This is a rich panorama of images and voices from every corner of the Italian American community. Accessible and challenging, it should be on the list of every ethnic studies course that wants to tackle the difficult process by which European immigrants became white as they became American."
Donna R. Gabaccia, Professor of History, University of Minnesota.
"Norelli's use of old films, photos and especially oral histories provides fresh and vivid documentation. Clearly Pane Amaro (Bitter Bread) is the result of extensive and judicious research. By focusing on dramatic incidents and colorful personalities, the film will engage the emotions of any viewer."
Rudy Vecoli, Historian, Founder, Immigration History Research Center, University of Minnesota.
About the Film | Filmmaker Bios | Credits | Pane Amaro (Bitter Bread)